报告框架
Striving for increased transparency
This report was prepared with content correlated to voluntary frameworks and standards established by the Task Force on Climate-Related Financial Disclosures (TCFD), IPIECA, Sustainability Accounting Standards Board (SASB) and United Nations Sustainable Development Goals. Devon continues to strive for increased transparency on issues that are top-of-mind for our stakeholders, as we believe ESG transparency is important to building a sustainable and economically competitive company.


TCFD
与气候相关财务披露工作队的建议(2021年10月)
TCFD试图为自愿气候相关的财务披露提供建议,作为投资者和其他利益相关者评估与气候变化相关的风险的工具。德文郡在2021年发布了其第三次气候变化评估报告,这是我们对透明度的持续承诺的直接结果。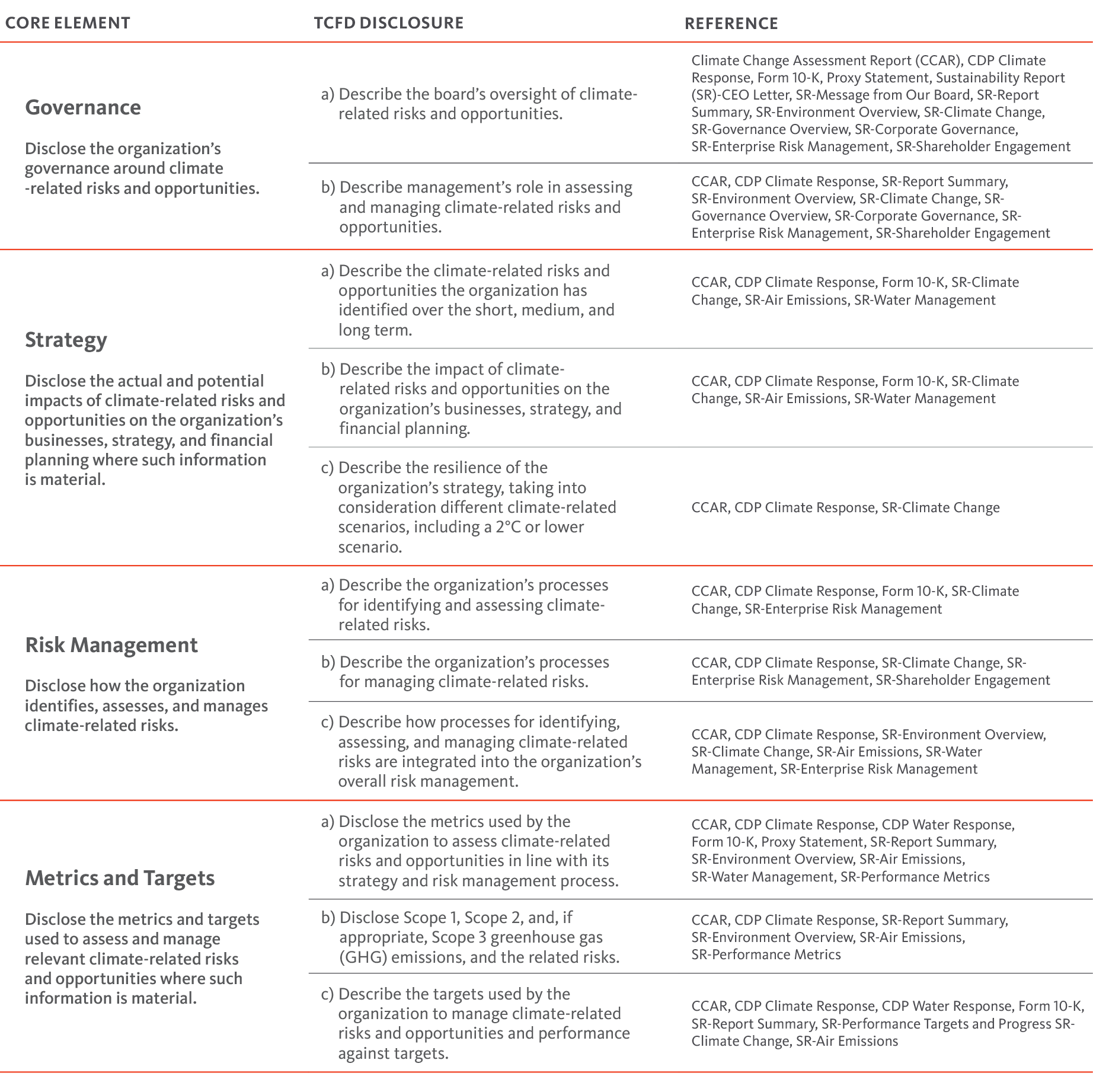 IPIECA
Sustainability reporting guidance for the oil and gas industry (4th edition, 2020)
The primary framework for this report is the Sustainability reporting guidance for the oil and gas industry developed by IPIECA, the American Petroleum Institute (API) and the International Association of Oil & Gas Producers (IOGP). The issues and indicators in this guidance have been selected based on industry consensus, together with significant insights and suggestions from an independent panel of stakeholders with expertise in the sector and sustainability reporting. The IPIECA index identifies where the referenced data may be found in this report or other publicly available disclosures.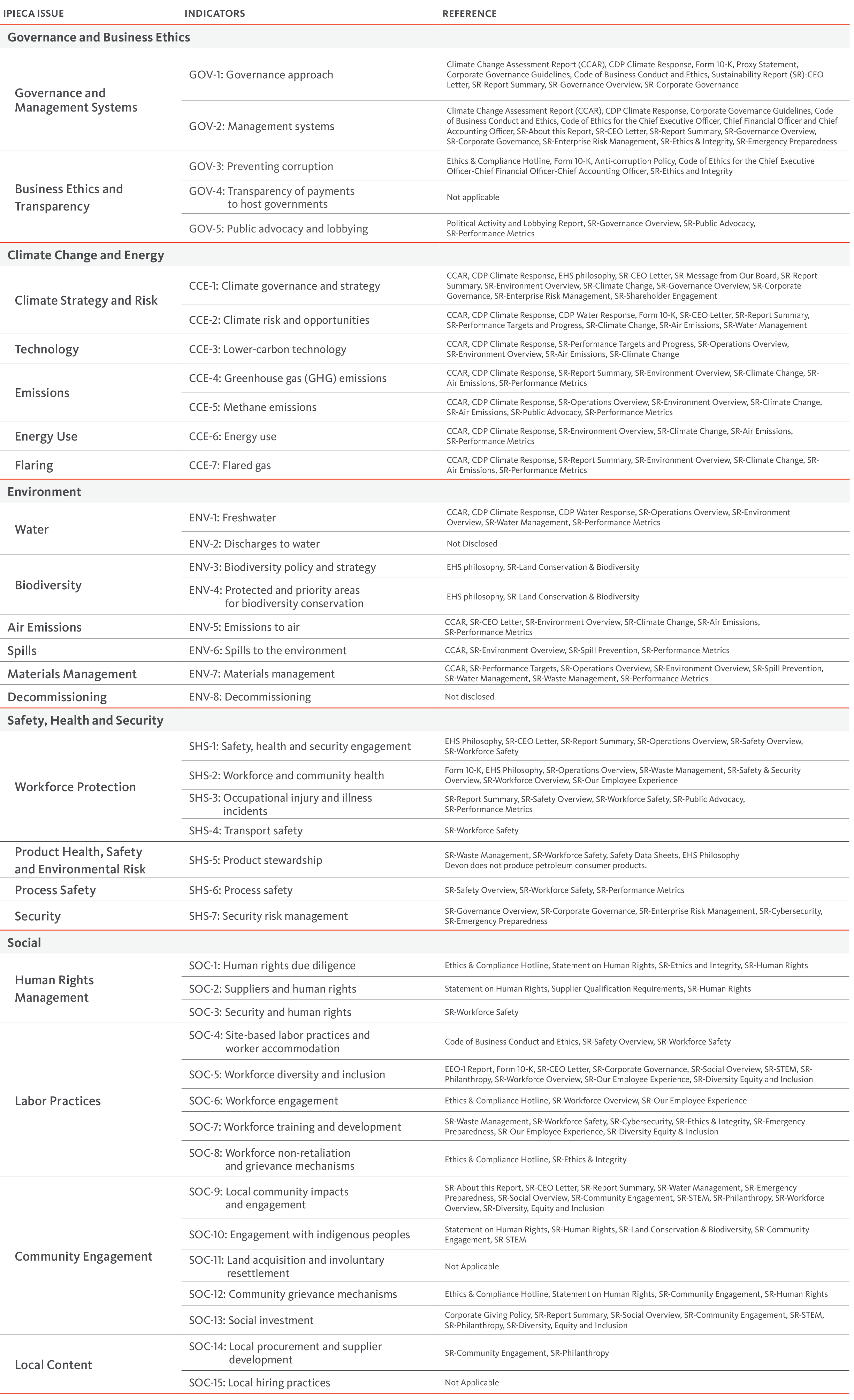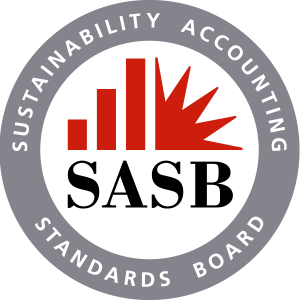 SASB
Oil and Gas Exploration and Production Sustainability Accounting Standard (version 2018-10)
可持续性会计标准委员会(SASB)将企业和投资者关联到可持续性的财务影响方面。SASB的使命是帮助世界各地的企业识别,管理和报告对投资者最重要的可持续性主题。
In response to growing investor interest in SASB, we conducted a comparative analysis using SASB indicators against our current reporting process. As of 2020, we still rely heavily on CDP Climate, CDP Water and our own materiality assessment to determine our top issues and methodologies for reporting. Various SASB indicators request different reporting methodologies but use the same underlying raw data that we use for our CDP responses. As such, Devon intends to use the SASB materiality profile for the oil and gas industry as an additional reference point when assessing the sustainability issues most likely to impact our business. We will determine what additional SASB-specific measurements Devon may adopt in the future based upon future assessments.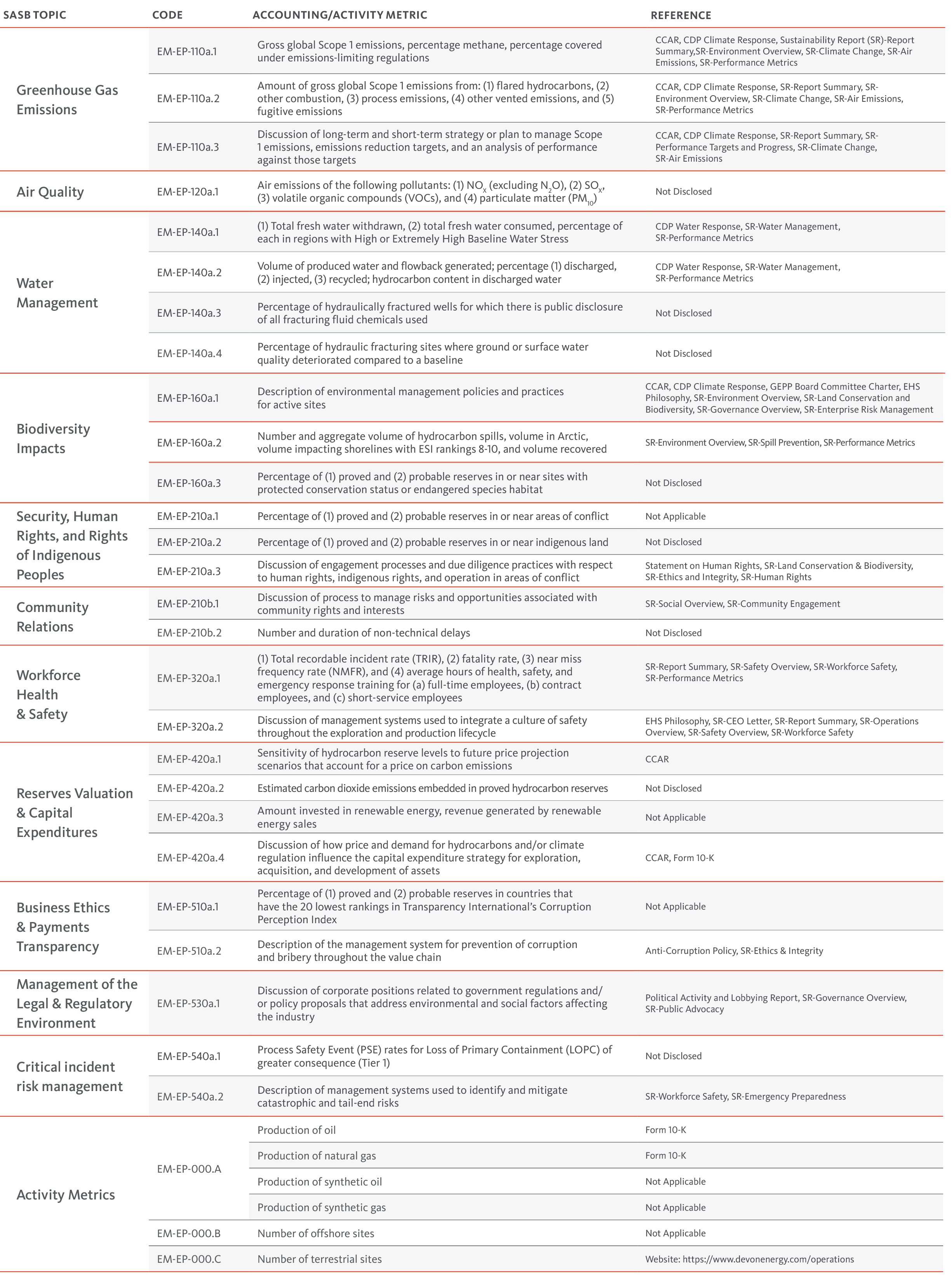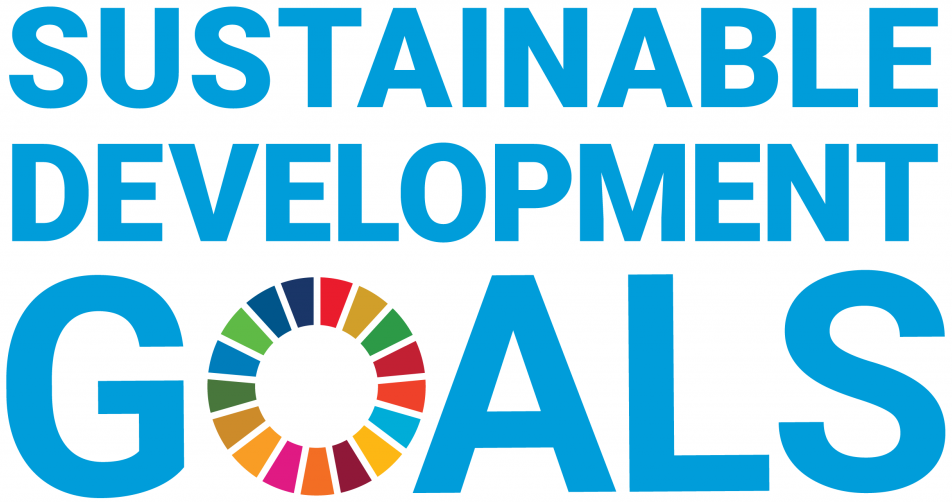 联合国的可持续发展目标

At Devon, one way we reflect on our role in society is by viewing our work through the lens of the U.N. Sustainable Development Goals, or SDGs. The SDGs are the globally agreed-upon action plan for providing affordable and clean energy, protecting our planet, and promoting peace and prosperity for all people. We identified nine SDGs for which we believe Devon makes the greatest contribution. The following table summarizes those nine SDGs and where discussion of those topics can be found in this report.


American Exploration & Production Council Framework

The American Exploration and Production Council (AXPC) is a national trade association representing the largest independent oil and natural gas exploration and production companies in the United States. To promote transparency and consistency in ESG reporting among U.S. upstream exploration and production companies, AXPC launched its voluntary ESG Metrics Framework and Template in February 2021. AXPC's framework includes five key metrics groupings – Greenhouse Gas Emissions, Flaring, Spills, Water Use and Safety. Note, Devon's performance data presented in this AXPC framework table may differ in scope, definition and methodology from Devon's reported data elsewhere in this report.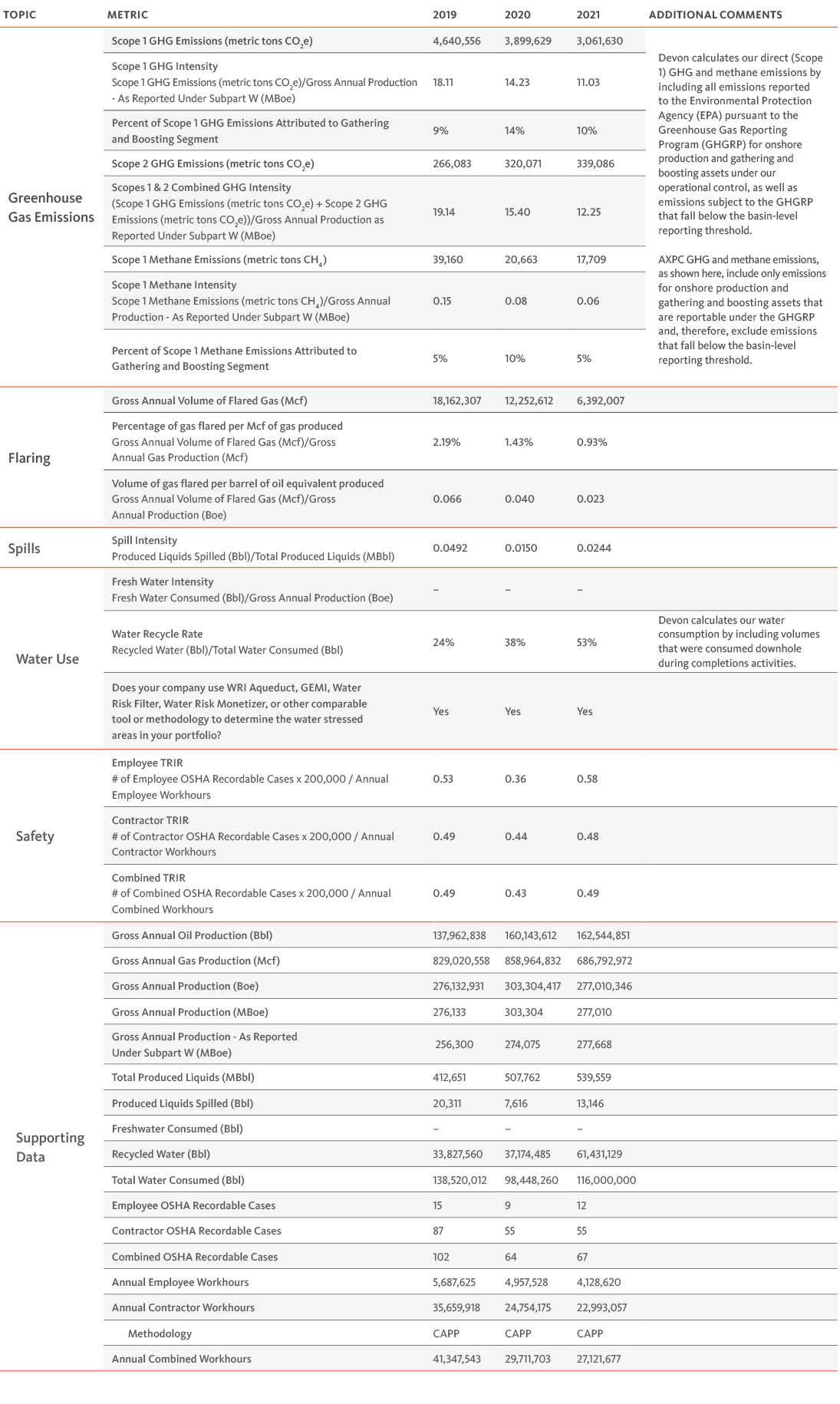 American Petroleum Institute Framework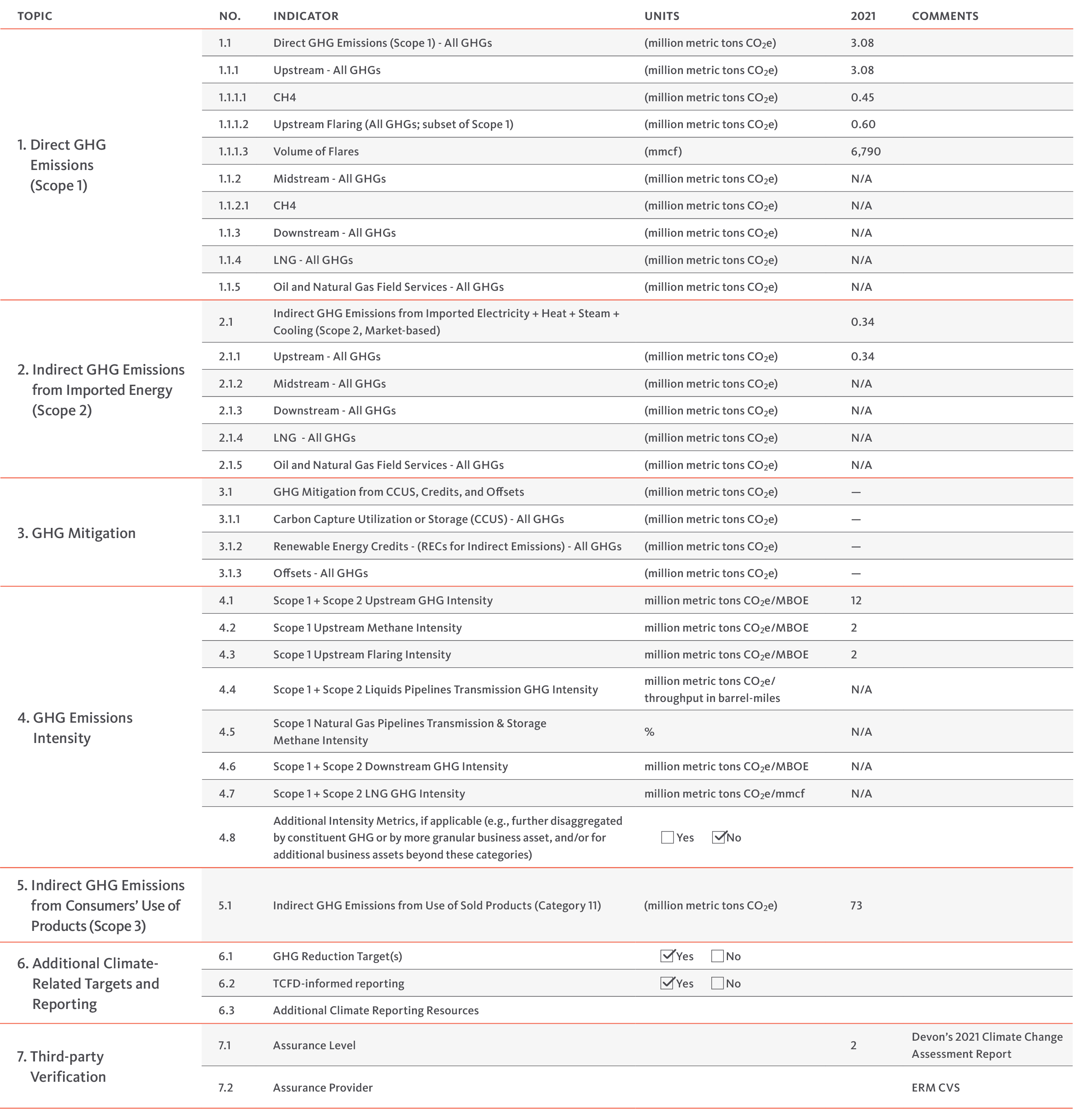 Disclaimer
This report contains terms, standards and reporting metrics used by IPIECA, Task Force on Climate-Related Financial Disclosures (TCFD), Sustainability Accounting Standards Board (SASB), United Nations Sustainable Development Goals and American Exploration & Production Council (AXPC, together with UN SDGs, IPIECA, TCFD and SASB, the "Frameworks"). The contents of this report are intended as guidance only and may not be comprehensive in scope or coverage, including as
到这样的框架。德文郡不打算,也不认可或采用框架中的短语,特定术语或建议。鉴于用于计算或估算此类信息的方法,非财务和非GAAP信息(例如本报告中包含的信息)受到更多的潜在局限性。德文郡没有做出任何明示或暗示的陈述或保证,也不承担任何责任,以提供指导或使用这些框架,或本报告中的任何错误,错误或遗漏。此外,本报告中使用的重要性概念并不旨在与与美国证券交易委员会(" SEC")所要求的披露相关的重要性概念。请参阅我们有关10-K表格和SEC的其他文件的2021年度报告,以获取有关我们业务和运营的风险和不确定性以及我们的行业的信息。
本报告涵盖了我们拥有和经营的业务,除非另有说明,否则不处理供应商,承包商和合作伙伴的绩效或运营。该报告没有区分我们最终母公司(德文郡能源公司)的活动和运营和我们的子公司的活动和运营。LDsportsKENO快乐彩
该报告包括SEC定义的​​"前瞻性陈述"。此类陈述与德文郡打算根据管理层的当前计划和期望来进行某些活动的方式有关。此类陈述不是未来行为或政策的承诺或保证,并且受到许多假设,风险和不确定性的约束,其中许多是我们无法控制的。请参阅本报告末尾的安全港披露。德文郡的实际活动,包括本报告中讨论的任何计划,目标或倡议的开发,实施或延续,将来可能会有所不同。本报告中的前瞻性陈述是从提交我们对本报告的响应日期开始的,即使随后由德文郡在其网站上或其他情况下可用。由于新信息,未来事件或其他方式,德文郡没有承担任何义务更新前瞻性陈述。